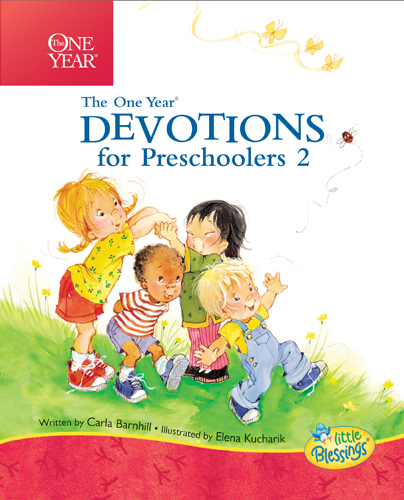 ProductDescription
Written by Carla Barnhill, The One Year Devotions for Preschoolers 2 includes 365 fun, easy-to- understand devotions for children ages three through six. Each reading pairs Elena Kucharik's lovable illustrations with a short Bible verse and devotional thought that will spark conversations between parents and children about these simple truths of Scripture.
Each day of the year, parents and their preschoolers can learn how to walk with God in everything they do. The devotions include rhyming questions and answers about the Bible, and each concludes with a rhyming prayer. The One Year Devotions for Preschoolers 2 provides a simple way to begin building the habit of daily devotions into a child's life.
The One Year Devotions for Preschoolers 2 is a repackaged version of the devotional Blessings Every Day.
Carla Barnhill has been in Christian publishing for 13 years. She is the former editor of Christian Parenting Today magazine, the author of The Myth of the Perfect Mother, and cofounder of The Mommy Revolution (themommyrevolution.com). Carla has spoken to thousands of mothers at MOPS conventions, women's retreats, and churches around the country. She is a sought-after source for new ideas about motherhood, parenting, and the spiritual formation of children. Carla lives in Minnesota with her wonderful husband, her dopey dog, and the three best kids ever created.
Elena Kucharik is an accomplished artist and illustrator who created the highly successful Care Bears characters in the 1980s. She illustrates all the Little Blessings books. She and her husband have two grown daughters and three grandchildren. They live in Madison, Connecticut.
As a mother to 5 young kids (ages 7 and under) I've been in search of a great devotional for my kids. Having two toddlers, I took the opportunity to review The One Year Devotions for Preschoolers 2 immediately when it was offered.
What an awesome devotional

! The One Year Devotions for Preschoolers 2 has a devotion for each day of the year. So you can start anytime of the year and not miss a thing!
Each devotion is short, sweet and to the point. Kids at this age need to hear and be taught the word of God, but their attention span is still so short.
The way that Barnhill has written so that even the little member of your family can begin to understand God's word is amazing. She can bring the devotion to a scripture focus in a few short paragraphs and the pictures go perfectly and are beautiful.
This is a great devotional for little ones. The perfect gift for a baby shower or for a first birthday! It's a gift that will continue to give for years! I would have loved to receive this and will surely gift this to others!
*This book was provided by Tyndale Publishing free of charge in exchange for my honest review. This did not sway my review and opinion of this book in anyway.