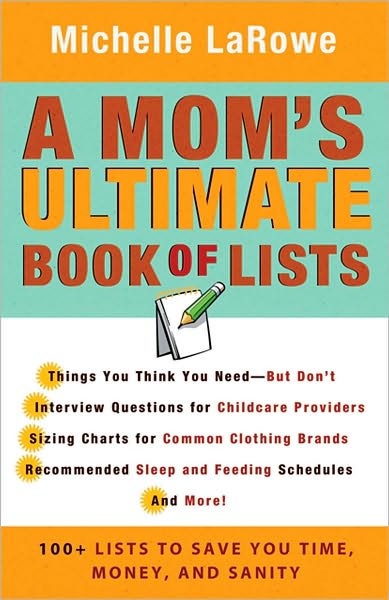 Product Description
Grocery lists. Checklists. To-do lists. Lots of people love--and live by--lists. And parents are no exception. Today's families are busier than ever, and moms don't have the time or energy to search and scramble for the parenting information they are desperately seeking: How much should my child be sleeping at this age? What toys will most benefit my child? What items are truly essential in furnishing a nursery? What questions should I ask a potential caregiver? What are the signs of a family-friendly restaurant? The answers to these questions and more than a hundred others are at a mom's fingertips with A Mom's Ultimate Book of Lists. This handy, practical reference guide will save time, money, and sanity for today's busy women.
From the Back Cover
A Mom's Ultimate Book of Lists is your one-stop resource for more than 100 lists to live by, including: When to Call the Doctor Questions to Ask before Choosing a Pediatrician Sleep Training Your Baby Top Toys for the First Year Terrific Activities Toddlers Love Easy Steps for Taming Tantrums Feeding a Picky Eater Signs of a Family-Friendly Restaurant Common Childhood Allergies and Illnesses Instant Pick-Me-Ups and so much more Start saving your time, money, and sanity today! "The book moms have been waiting for!"--Lynne M. Kenney, PsyD, The Family Coach, North Scottsdale Pediatrics "Concise, easy to read, and anxiety-reducing!"--Joan Goldner, president, About Your Time LLC, publisher of BusyBodyBook Organizers "A one-stop resource for finding answers to every parent's questions."--Karol Ladd, author of The Power of a Positive Mom Michelle LaRowe is a national speaker, parenting consultant, and author of the Nanny to the Rescue! series and Working Mom's 411. She is the 2004 International Nanny Association "Nanny of the Year" and a credentialed career nanny with more than fifteen years of experience. LaRowe is often featured on television and in print as a nanny expert and has been lauded for her dedication to improving the quality of in-home child care. To learn more, visit
www.michellelarowe.com
.
My Review
I was floored at all the information that Michelle has included in her book! I spend hours upon hours surfing the net to find all this information, yet now she offers it all bound in a paperback book. I think at all the work she must have gone through to compile all this information and I am so thankful that she did!
All these lists are so so so practical and having them all in one place is excellent!
Great book for any mom of young kids and for any soon-to-be mom. I have a friend due in a few months, guess what she's getting from me?!?!
*This book was provided by Revel free of charge in exchange for my honest review. This did not sway my review and opinion of this book in anyway.