Book Description
A harmonious relationship is possible...
When your daughter was born, you had a thousand hopes and dreams for her. . .including that one day you'd be best friends.
But as life unfolds, even the best intentions go awry. There are so many challenges on the journey to adult friendship that the reality is fraught with friction and frustration. Thankfully, a harmonious relationship with your daughter is possible.
Written by a mother and daughter who have successfully navigated the minefield from distance and tension to acceptance and friendship, Mother-Daughter Duet helps moms open wide the door of communication so that daughters want to walk through it. Filled with personal anecdotes and based on proven principles, each chapter offers timeless wisdom as well as a daughter's perspective. Often these principles apply to daughters-in-law as well.
The relationship between mothers and daughters is intense, personal, complex, and unique. But you can have the loving, authentic bond you always dreamed of—when you learn the mother-daughter duet.
About the Authors
CHERI FULLER is a best-selling, award-winning author whose books have sold more than one million copies. She speaks to a wide range of women at women's conferences and is a frequent guest on national radio and television programs.
ALI PLUM is Cheri's daughter, a writer and songwriter, a wife, and a mother to Noah and Luke. She and her mom have weathered the ups and downs of their relationship to find one of the most treasured, honest relationships of their lives. Ali has recorded background vocals for popular musicians, and Mother-Daughter Duet is her debut into book publishing.
My Review
Though my daughters are still young, I received a lot from this book.
As a mother we want the best for our daughter(s), we want them to be succeed and to be happy. That doesn't stop once they are out of our house, so as a mom to an adult women our role has changed, we've done our job of raising her. She is no longer under eighteen and we don't have much say-so in her life, so now it is time to just be a friend.
Treating her as you would your other adult friends will be a hard concept but that was one of the main points I got, that we need to step out of the Mother role
just
enough to be a good friend. That's not to say that you are no longer important as a mother, but your job of raising her dissolved once she turned eighteen and left your household. You can now be a friend to her, that will make a bigger impact than staying in the "boss" role.
I wish that I had that kind of 'friendship' with my mom, where she became a friend when I got married and become a mother myself. So a big desire for me is to have a great friendship with my daughters when they are adults. For now, I'll be mom first and friend second.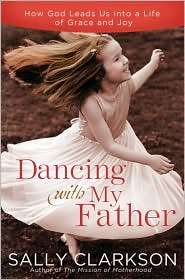 Product Description
Let Your Soul Dance with Delight in God
Do you sometimes feel victimized by circumstances? Are you overwhelmed by weariness, fear, or discouragement? Do you wonder, Where can I go to claim the promise of Jesus that my joy could be made full?
When trusted author and mentor Sally Clarkson noticed a lack of joy in her own life, she realized how easy it can be, especially for women with overloaded to-do lists, to feel weighed down by drudgery and disappointment. But rather than slogging through her days, Sally wanted to know the delight of God's presence. She began prayerfully exploring how to cultivate deep-rooted joy even in the midst of difficult seasons.
In this warm and wise book, she invites you to experience for yourself what happens when you trust God to lead you into a life of anticipation, passion, and purpose.
Weaving biblical insights with real-life stories that reflect every Christian woman's deepest longings, Dancing with My Father reveals how any woman, in any circumstance, can daily live in beauty and grace, joy and peace.
About the Author
Sally Clarkson is a popular speaker who has worked in various ministries for more than thirty years. She is the author of several books, including The Mission of Motherhood. She and her husband, Clay, are the cofounders of Whole Heart Ministries, which encourages and equips Christian parents. The Clarkson's live with their four children just outside of Colorado Springs, Colorado.
My Review
Having a 'study guide' at the end of each chapter is awesome! I enjoy this because I am able to immediately apply what I learned in the chapter.
Through this book, Sally teaches us that joy is a choice you must make. Sally's desire was to have joy in all circumstances in this dance of life. She has taken real-life stories and scripture to weave together a great guide for women in every stage of life to find joy in God as He leads you in the dance of life.
Sally has some amazing books and help for mothers and women. I've learned much from many of her books in the past, and here is another that I can add to that list. Sally speaks from her heart and is transparent to her readers. In books such as this one, that is extremely important to me.
One Lucky Reader will win a copy of both Dancing with My Father AND Mother Daughter Duet, courtesy of the publisher.
You MUST be a follower to be eligible.
Here's how to enter:
Leave a comment including your email address.
Additional Entries:
(Be sure to leave a separate comment for each additional post for it to be counted!)
Winner will be picked through a random drawing held on
Sat. March 6, 2010
.
*This book was provided by Random House Publishers free of charge in exchange for my honest review. This did not sway my review and opinion of this book in anyway.