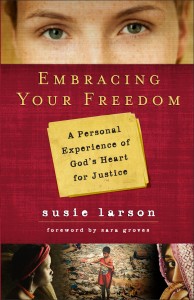 While our culture places great emphasis on comfort, security, control, and success, there are deeper rewards for those who take hold of God's promises and reach out in the Name of Christ. Adventure, faith, miracles, and a deep knowledge of Jesus Christ. This is what Susie calls her readers to realize.

Author/Speaker Susie Larson makes her message graspable, accessible, and doable. Her stories, scriptural devotionals, and study questions set the stage for a first-hand experience of God's heart for personal freedom, for the plight of the suffering, and for a conviction to get involved with His work among those in need.
While the book's primary focus is on the reader's journey into freedom, it clearly conveys our shared responsibility to "seek justice, rescue the oppressed, defend the orphan, [and] plead for the widow" (Isaiah 1:17, nrsv). This is God's expectation for those who truly know Him.

When we live in bondage to our fears, insecurities, shame, guilt, despair, or sinful appetites, we live self-focused lives. But when we embrace our freedom in Christ, our hearts are released from captivity and we view everything around us—our relationships, resources, responsibilities, and opportunities—as tools to bring that same freedom to those who desperately need it. This book is for the woman who wants to grow stronger in her walk of faith and who wants to gain a greater view of God's heart for the world. And it's to this we are called. May she be provoked, to be as free as God meant her to be. And as a result, may she become an advocate for the freedoms of others.

Each chapter will include devotional insights, justice quotes, anecdotes, prayer guidance, and study/reflective questions.
About the Author
With enthusiasm, humor, and conviction, author/speaker Susie Larson speaks to thousands of women through her blog and conferences. Susie also serves as a regular guest host for Along the Way —a two-hour talk radio show. In addition to authoring several books and many articles, Susie works as a freelance writer for Focus on the Family, and has been featured as a guest on radio and TV programs across the country, including Moody Midday Connection, Family Life Today, Chris Fabry Live!
I found Susie's writing style to be very easy to undersatand and read. Her stories are captivating and heart-wrenching. Stories of injustice around the world. Stories of slavery, thief, human trafficking, bondage. Stories of God's hand in the mix, setting people free and healing their hearts. Stories that will bring a tear to your eye and a ache in your heart.
By sharing these stories with us, Susie not only points out the need for us Christian to step up and help out in the world, but she goes deep into our need for personal freedom through Christ. We keep ourselves bound by our negative thoughts, our fears and our insecurities. Susie's desire through this book is to see our heart, soul and mind set free by the power of Christ.
Embracing Freedom will not only challenge your heart, stirring a desire within you to encounter full freedom in Christ, it will stir your heart for the people around the world who are trapped in the injustice of this world.
Susie intertwines a ministry she is so passionate about, International Justice Mission, and in doing so she helps to understand that our true freedom is Christ is connected to the physical and spiritual freedom of those trapped in bondage around the world. What a great way to help us connect the dots and have a passion stirred not only for our personal freedom, but to reach those around us.
Embracing Freedom is an amazing book. I plan to re-read it again so I can better study and spend more time with God and study the scriptures that Susie shares.
More about International Justice Mission can be found at www.ijm.org.
*This book was provided by Susie Larson and Pump Up Your Book free of charge in exchange for my honest review.
This did not sway my review and opinion of this book in anyway.