A prize I won from Tyndale Publishing.
A few weeks ago I published a blog post about the New Living Translation Bible from Tyndale Publishing. I was one of the first 50 bloggers to post about the NLT version and send a link of my post to Tyndale.

I received a certificate for a free NLT Leatherlike. I needed to take my certificate to my local Christian bookstore (in my case, Lifeway).


SO
... yesterday I drove 40 minutes to my nearest Lifeway bookstore to redeem my certificate for my new NLT Life Application Bible... I love the crisp new pages and smooth cover!
I have never studied out of a NLT version Bible before, I grew up using a NIV and NKJV.
AND
... I have never used a Bible published by Tyndale. I've always used Thomas Nelson Bibles, not for any particular reason, just because that was the Bible that I liked or was gifted. My favorite Bible to study out of has been The Nelson Study Bible in the NKJV, which I was gifted by my parents for my high school graduation in 1999.
BUT
... since I now have a Tyndale published Bible in a new version I've never used, I will be giving my new NLT Life Application Bible a try.
I can't wait to start highlighting and leaving notes in the margins... that is my favorite part of getting a new Bible, but also the hardest part of getting a new Bible... I have notes and highlights in other Bibles that a great and have meaning, do I transfer the old notes and highlights to the new Bible or just start fresh?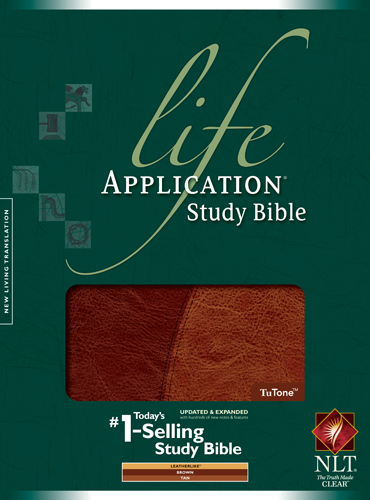 Life Application Study Bible NLT, TuTone
BEST-SELLER
Binding:
LeatherLike, Brown/Tan
Release Date:
February 2005
Today's best-selling study Bible--the
Life Application Study Bible
--has been updated and expanded. Over 300 new Life Application notes, nearly 350 note revisions, 16 new personality profiles, updated charts, and a Christian Worker's Resource make today's number one selling study Bible even better.FEATURES:
Over 300 new Life Application notes and significant revisions to nearly 350 others
16 new Personality Profiles
Most charts revised to clarify meaning and importance, plus eight all-new charts
New information on the intertestamental period
Christian Worker's Resource, a special supplement to enhance the reader's ministry effectiveness, includes: How to Become a Believer, How to Follow Up with a New Believer, Mining the Treasures of the Life Application Study Bible, So You've Been Asked to Speak, and Taking the Step to Application
*My particular Bible also came with a Gold Premium
ILUMINA
Starter Edition
software disc to download to my computer (which
IS
MAC compatible!)
What '
Starter Edition'
means is that is a
demo
. Still, for free, it's worth having a demo to see if I'll like the program before investing the $50-$90 for the full version.