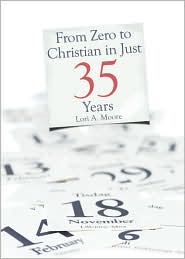 PRODUCT DESCRIPTION
Do you think church isn't the place for you or that it's too late for you to give your life to Christ? In her book From Zero to Christian in Just 35 Years new author Lori A. Moore shows us that nothing in the past will keep God from loving us. Trusting God can be scary, especially when confronted with complex and formal language. Through this simple and easy going guide to finding God, inexperienced Christians will learn to emerge from doubt and fear into the peace and comfort that can only be found in Christ. Follow Lori as she goes From Zero to Christian in Just 35 Years. This book is really an eye-opener to the Christian and non-Christian alike. It tells us that we don't have to be perfect to receive the grace and salvation of Jesus Christ - we just have to accept it. Lori A. Moore helps us realize that God loves us for who we are, his children. - Susan Curtis, Single Parent I found this book to be very insightful. Reading Lori A. Moore's thoughts made me search my own thoughts and feelings about God and my relationship with him. - Joyce Goldman, Retired Lori A. Moore resides in Louisville, Kentucky with her husband, Michael, and their three cats. She teaches university both in the classroom and online, and has a passion for adults who have not yet experienced a relationship with Christ.
ABOUT THE AUTHOR
Lori A. Moore teaches college both online as well as in her hometown of Louisville, KY where she lives with her husband Michael and their three cats. Lori has a passion for adults who haven't yet experienced a relationship with Christ because everything they've heard is kind of formal and scary. She tries to write with humor and on a down-to-earth level that people can relate to and understand.
An avid traveller, she has visited all 50 states in the U.S. as well as 26 other countries. Her most recent trip was to Cuba and her next trip will include Italy, Croatia, Turkey, and Greece.
Lori is also an amateur photographer and volunteer photo-journalist. She recently won 3 photo contests for photos of humorous observations.
MY REVIEW
I really enjoyed Lori's testimony. I met Christ at age 12, and though my life has had it's up downs, mountain tops and valleys, I've always had an faith in God to fall back on, even when I denied or walked away from Him.
Lori's journey was an eye-opener into what some people really go through in their journey to find Christ.
The Legal Stuff: This book was provided by _____.