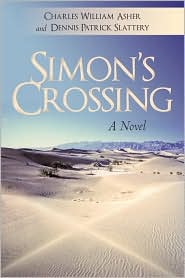 PRODUCT DESCRIPTION
Enter the biblically historic world of Simon of Cyrene, where a world of grief, revenge, and tender devotion awaits. There, families are torn apart, marauding soldiers enact their violent ways, and random events suddenly disrupt life. Along this journey there will be encounters with Pontius Pilate, Veronica, Mary, and the sons of Simon, Rufus and Alexander, as they seek to grasp the mystery of a compassionate Nazarene, serenely putting into practice the kingdom of God.
Forced to carry the cross of Jesus, Simon of Cyrene, a little known biblical figure, reluctantly yields to his task. At the same time, Simon struggles with personal loss and a fiery desire for revenge. In Simon's story, the vulnerability of our own journeys is laid bare as we cross paths with a simple wooden cross and a redemptive twist of fate.
In Simon's Crossing, this ordinary man, from Cyrene, steps boldly out of the pages of the Bible. He senses that his own life depends on the Nazarene staggering just ahead of him. Persuaded by sacrificial love, we too discover what it is like to cross over into the imaginal power of a story well-told, where salvation lies close at hand. Simon's story compels us to carry on as well.
MY REVIEW
I have always be intrigued to read what others thought
might have happened
. So when I was given the opportunity to review Simon's Crossing, I was quite excited.
Simon is not one that is talked much about. So to see Asher and Slattery form a whole book based on this man who played such a significant part in the crucifixion, I was curious to see how it played out in their minds.
I was not disappointed. I think that it is very well written. It contains a look into how life very easily could have been for Simon, among others who lived during the time of Christ.
There is a couple of 'sex' scenes that I must mention;
One in the beginning of the book, in the context of marriage
Another a rape scene,
though neither are in extreme detail, they both do exist so I must mention them.
Also, there is violence, which consists of both the details of the sacrifice our Savior made, as well as force the Roman soldiers use and abuse.
UPDATE:
Since reading, I have had a chance to read a few other reviews online.
Some of the content in the following reviews I agree with, other parts I do not. But for what it is worth, I thought I'd like to these reviews to help you get different views, then YOU can decide for yourself if this is a book you'd enjoy or not.
Cafe Lily
Operation Actually Read Bible
Quintessentially Quilly
The Legal Stuff: This book was provided by _____.