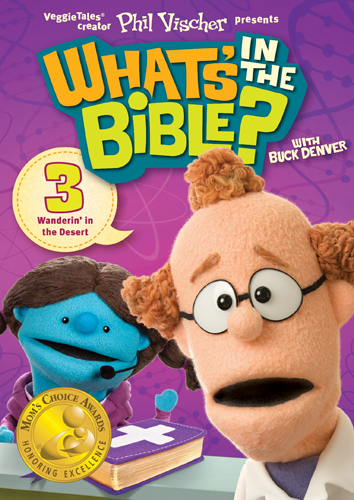 PRODUCT DESCRIPTION
In What's In the Bible #3,
Wanderin' in the Desert,
Buck Denver and his cast of friends take us through the next three books of the Bible—Leviticus, Numbers, and Deuteronomy—helping kids understand how these books fit in with Genesis and Exodus to make up the Pentateuch and to set the stage for the trials and victories of God's people. The question "Did this stuff really happen?" is also answered.
From the man who made vegetables talk (and sing and dance and tell Bible stories) comes this third release in the engaging new series that walks kids through the entire Bible! Each DVD is filled with an entertaining cast of characters who bring the most powerful Bible stories to life using humor, creative storytelling, and fun songs. Join VeggieTales creator Phil Vischer on a wild and zany journey and see the world's most amazing book come to life.
MY REVIEW
I've enjoyed the first three DVDs in this series.
The change from talking vegetables in Veggies Tales to puppets is a good change for Phil Vischer. (Though I do love Veggies Tales...If you have watched Veggies Tales, you can see the similarities between Veggie Tales and What's in the Bible. This is not by any means a bad thing, it is just something I thought I'd mention.)
I like the What's in the Bible series because the title is exactly what it is doing: teaching kids about what is in the Bible.
It is not just teaching kids a bunch of stories from the Bible, it is teaching the kids what the Bible is and what can be found in it. It gives the kids the basic foundations of where the Bible came from and I love that Phil feels that God has given him a second go-round at the call He placed on his life!
My kids have been able to watch, read and follow along with the crazy puppets and answer my questions about the Bible afterwards. I love that they are leaning more than just the story of Moses, but they are learning the history behind why God called Moses.
I plan to collect this entire series! It will be one that I will suggest to our children's church leaders to examine and use as needed to really instill the information in the kids.
You can find useful information and more resources at
www.JellyTelly.com
. There are videos clips, games and other resources for parents and adults. Check it out!
Want to find out more? Check out the website
www.whatsintehbible.com
or
www.tyndale.com
to learn more. You can also follow
@whatsinthebible
on Twitter or check them out on
Facebook
.
Check out my reviews of
DVD #1 & #2
!
The Legal Stuff: This book was provided by Tyndale.